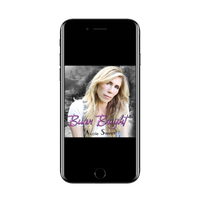 Testimonials
VERY Talented and Smooth music. 

Chuck J.
Love the song Love Has Made Us Free! When I watched to tribute video and read the lyrics the song came to life for me. Great song and message!! It moved me to tears. Great job Nicole! 

John H.
Rock this out! Great Talent Here! Great job. Keep up the good work. There's not but one time around, so keep giving it all you got! 

Brent L.
ABOUT
Whether you are looking to be encouraged, motivated, uplifted or empowered, you have come to the right place!
As an independent artist, my hope and dream is to help you 'burn bright' throughout your day with my music and great merchandise.
I am so happy to be a part of your daily inspiration as we journey and stand together in true freedom, happiness and love!
-Nicole